Back To Our Services
There is nothing more eye catching for a residence than an ornately designed wrought iron or steel gate serving as the centerpiece of a driveway or garden. Perfectly combining beauty and functionality, a driveway gate not only adds a level of protection to your home, but enhances its curb appeal tremendously. Quality metalwork has a timeless appeal that never goes out of style. It is a classic look that you and your family will appreciate for years to come.
As an added bonus, your driveway can be equipped with user-friendly additions to make your life easier. Don't want to get out or even roll down your window as you drive in? One push of your gate remote will have it open before you can say "convenience." An electric opener saves you the worry of latching and unlatching your gate. Want to be able to communicate with your guests before they get up the driveway. Save yourself the trip with a phone or intercom system.
Stylish Driveway Gates Combined with Convenient Technology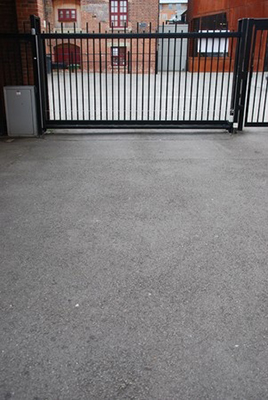 Give the entry to your home the classically dignified elegance of an ornamental iron gate combined with the ease of the latest technology with a driveway gate from "Gate Repair Mission Viejo." Not only do we offer a wide variety of prefabricated beautiful gates crafted from many materials, but each one can be modified to suit your needs with our expert welding services. Have your own vision in mind? Create a custom gate from scratch the matches the aesthetic of your home.
Gate Repair Mission Viejo offers installation and repair of all of the leading brands of access technology on the market today. Allstar remotes offer a range of popular and affordable models that are known for being long lasting and reliable. The top name in aftermarket remotes, Carper remotes are designed to replace any lost or broken remotes. They work with nearly all of the popular models on the market, and surpass many of them in terms of quality and range. Other popular brands we offer include Doorking, Linear, Aiphone, Ramset, All-O-Matic, and BSL. Enjoy the accessibility and comfort this technology offers while maintaining the classic appearance of an iron or steel driveway gate.
Interested in speaking to a member of our friendly and knowledgeable team? Call us now for a consultation.
Back To Our Services