Back To Blog
Remember how a knock at the door sound made you jump because the visitor was often unexpected? Remember the peepholes and wondering who is really behind the door? Well, today those outdated ways of keeping your home secure and unwanted visitors out are much less effective because of all the new age gate intercom systems available. When it comes to such equipment, there is nothing like the latest generation technology. It will become much harder for somebody to approach your front door without your permission, since your gate will keep even friends and family out until you press the right buttons and let them in. However, although such systems contribute immensely to your security, never forget the obvious, which is to take care of all parts and give special attention to your swing gate operators.
Get gate intercoms for better security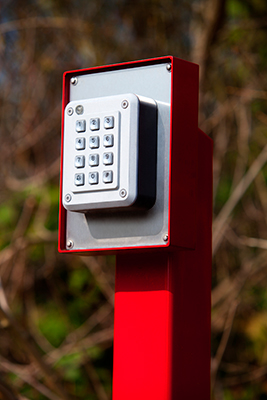 Every new gate installation is meant to reinforce home security a bit more. That's why it's important for everybody to invest in resistant materials, reliable operators and good quality parts. Frequent maintenance and repairs when something is wrong with the system are both extremely important. You can't expect the gate to protect you if it doesn't close well. So next time you encounter such problems take a look at your swing gate hinges, check if the posts sag, fix the motor and make sure the track is free of debris. Keeping the whole system and all parts in good condition is the first step of your security, but today there are also a handful of gadgets on the market that will reinforce your efforts.
You can also get a phone entry system. There are amazing choices for everyone! Although these systems were first made for convenience or good protection of big commercial buildings, they quickly attracted the attention of thousands of homeowners. And for a good reason, too! With the potential to connect your intercom to the existing phone line (and thereby no extra expenses for a new line), the convenience of having a camera through which you can see who is standing at the gate and the ability to have two-way communication with visitors, buzz them in or deny them access is indeed notable.